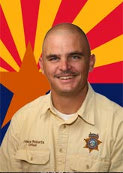 12:42 PM 1/31/2014
Please join the Arizona Constables Association in welcoming the newly elected members of the board. At the Tubac training session, Vince Roberts was elected as President, Colt White as Vice President, Scott Tipton as Treasurer, Ken Sumner as Secretary, Jim Discoll and Lennie McCloskey as Board Members. Philip Hazlett is now our Past President.
CONSTABLE ENRIQUE GÁRFIAS
An excerpt from phoenix.gov:
Enrique "Henry" Gárfias was an early Phoenix community leader, and the first Hispanic to hold an elected office in the city. Gárfias was born in Mexico, and grew up in California. He came to Phoenix in 1874. Four years later he ran for town constable and won, defeating several Anglo candidates. His duties included serving legal notices and assisting in operations of the peace court. In 1881, Gárfias ran for the position of Phoenix's first city marshal.
Read more of this on our
Constable History
page.
WELCOME!
Welcome to the Arizona Constables Association web site. This site has been developed to assist you with learning more about this elected position.
Did you know that the job of a Constable varies depending on the county he or she works in?
Constables have been a part of Arizona since the days of the Wild West. On our
About page
, the constable's rich history will take you on a journey from territorial days to present times.
Although the Ethics, Standards and Training Board is a separate entity from the Association, several association members serve on the Ethics, Standards and Training Board, which oversees the conduct of Arizona's Constables. For more information about the board, browse over to our
Ethics, Standards and Training Board page
.
Under the
Members Section
you will find a listing of the current members of the Association and their biographical information.
We hope you enjoy this site and if you have any further need to contact a board member, please see the
Board Members page
.